Download 3 Cards to Midnight
Welcome to the 3 Cards to Midnight Walkthrough!
Jess Silloway has just woken up and does not remember the last few weeks. Help Jess remember the past using mystical Tarot cards.
Whether you use this document as a reference when things get difficult or as a road map to get you from beginning to end, we're pretty sure you'll find what you're looking for here.
This document starts with general game tips before launching into the complete 3 Cards to Midnight game walkthrough featuring annotated screenshots from actual gameplay!
We hope you find this information useful as you play your way through the game. Use the walkthrough menu below to quickly jump to whatever stage of the game you need help with.

Remember to visit the Big Fish Games Forums if you find you need more help. Have fun!

This walkthrough was created by B. Awesome.


WALKTHROUGH MENU
GENERAL TIPS
INTRODUCTION
CHAPTER 1
CHAPTER 2
CHAPTER 3
CHAPTER 4
CHAPTER 5
CHAPTER 6
CHAPTER 7
FINALE


GENERAL TIPS


At the beginning of the game, you have three different levels of difficulty to choose from; "Easy," "Challenge," or "Gamer." This walkthrough is for the "Challenge" difficulty level.

At the bottom of the screen is a key word or list of key words. On either side of the key words are blank slots which need to be filled with items relating to that word in order to create a different word. For example, if the key word is "light," and you find a sun, that sun would be listed on the left to create "sunlight." If you find a bulb, it would be listed on the right to make "light bulb."

When working with multiple key words, be sure that you select the correct word. For example, if your words are "light" and "sugar," and you click on a bowl to make "sugar bowl," but "light" is selected on your panel, it will count as a miss.

The blue ball in the bottom left corner shows how many hints you have left. Click on this to use a hint.

The green ball in the bottom right corner shows the number of points that you've earned within the level. At 100 points, you are awarded an additional hint. Note: Points and Hints do not carry over between rooms.

Clicking any incorrect object is a "miss." If you run out of misses, you will have to restart the level. The number on the red ball on the right shows how many misses you have left.

Each level is represented by a Tarot card. Upon completion, each level is rated from one to four stars – the higher the rating, the stronger the card. At the end of the game you'll need to choose your two "strongest" Tarot cards to determine the outcome of the game, so do your best to get a good score on every level.

Some levels have unlockable puzzles. These puzzles can either be completed as soon as they're found or at the very end of the level, after all of the words have been found. To play a puzzle, click on the green "puzzle" button in the bottom right corner. All puzzles can be skipped, but doing so lowers your rating for that level.

Between chapters is a Chapter Summary page. Here, you can review the story so far, replay a location, or retry the entire chapter to get a better score.

On the main menu, click on "How to Play" for a detailed diagram of the controls and the Chapter Summary pages.

Items in the screenshots are circled in different colors depending on which key word they belong to. For example, an item circled in red matches up with the keyword circled in red. Items that belong to more than one keyword will be circled with both colors.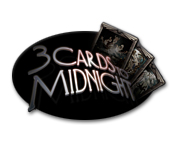 Source: Big fish games