Download Righteous Kill 2: Revenge of the Poet Killer
Righteous Kill 2: Revenge of the Poet Killer Walkthrough
Posted on May 20, 2009 in Other
Welcome to the Righteous Kill 2: Revenge of the Poet Killer Walkthrough!
Explore murder scenes and look for clues to unravel the mystery behind the Poet Killer before he strikes again!
Whether you use this document as a reference when things get difficult or as a road map to get you from beginning to end, we're pretty sure you'll find what you're looking for here.
This document begins with a simple introduction before getting down to the full Righteous Kill 2 game walkthrough featuring annotated screenshots from actual gameplay!
We hope you find this information useful as you play your way through the game. Use the walkthrough menu below to quickly jump to whatever stage of the game you need help with.
Remember to visit the Big Fish Games Forums if you find you need more help. Have fun!
This walkthrough was created by Margie B.
WALKTHROUGH MENU
INTRODUCTION
PROLOGUE
CASE 1: TONY FILLIONE
CASE 2: UNKNOWN
CASE 3: JOE CINELLI
CASE 4: RALPH JACOBS & MIKE LEE
CASE 5: OFFICER STEVE CLARKS
CASE 6: SAM BELLOCKS
CASE 7: MARTY STILLS
CASE 8: ANTHONY YUNG
CASE 9: JACK SLOAN
CASE 10: INVESTIGATOR BILL MARCUS
CASE 11: STEVE BOLLIO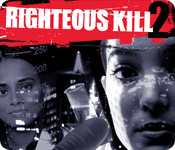 INTRODUCTION


General Tips


Righteous Kill 2 has 11 cases. Each case has several interactive hidden object scenes along with several mini-games. The amount of scenes in each case varies. Some cases have only three locations, while others may have over 10 locations.

The game has only one mode, an untimed mode. You will not have to worry about playing against the clock. Take your time and play the game at your own pace.

If you decide that you do not want to play a particular mini-game, you can skip it without any penalties.

You can click randomly on the scene without any penalties.

Whenever you are asked to find a note, you can be assured that there will be three other items that will appear on your list of items to find.

There is no way to advance through the dialogue in the game; you have to click on the "skip" or "close" tabs in order to close out the dialogue.

Hints

If you're stuck and you need to use a hint, click on the badge that is in the top left side of the scene. A hollow badge will appear in the scene around one of the items on your list.
When you use a hint, you have to wait for it to replenish itself before you can use it again. The hint replenishes pretty quickly, so your waiting time will be minimal.
You can also click on any item on the list and be able to see a silhouette of the item you clicked on. The silhouette will stay up on the screen until you find the item, or until you click on the word "list" that is underneath.



Source Bigfishgames Righteous Kill 2: Revenge of the Poet Killer Walkthrough