Download Yard Sale Hidden Treasures: Lucky Junction
Welcome to the Yard Sale Hidden Treasures: Lucky Junction Walkthrough!
Hanna Harlow, the hostess of the world's favorite decorating television show, is looking for the next design superstar in Yard Sale Hidden Treasures: Lucky Junction! It could be you!
Whether you use this document as a reference when things get difficult or as a road map to get you from beginning to end, we're pretty sure you'll find what you're looking for here.
This document starts with general game tips, followed by the complete Yard Sale Hidden Treasures: Lucky Junction game walkthrough featuring annotated screenshots from actual gameplay!
WALKTHROUGH MENU
GENERAL TIPS
SAILOR BOB'S BEDROOM
J. DEAN'S GAME ROOM
SANDY'S BEACH VERANDA
R. MASTER'S NURSERY
MISS KITTY'S DINING ROOM
M.T. GRAVE'S UN-LIVING ROOM
SIR LOIN'S HEROIC DEN
T. HUGGER'S TREEHOUSE


GENERAL TIPS
Yard Sale Hidden Treasures: Lucky Junction is a Hidden Object game, and has two modes of play. You can choose between Career mode and Lucky Junction Tour. Lucky Junction Tour is unlocked upon completing the Career mode.

When starting in Career mode, you have the option of playing the game in either Relaxed or Timed mode. This walkthrough was compiled through playing the game on Relaxed mode. Keep in mind that playing the game on Timed mode will grade you on speed during certain sections of the game.

When you begin each level, you will be given a list of items to find, as well as criteria from clients to be met in order to improve their rooms. To complete the criteria, you'll need to find certain objects on the list and repurpose other items for use.

For each customer, you'll need to visit yard sales in the surrounding neighborhood to find items for use in their homes. Keep in mind that only a few yard sales will be available to you per level.

If you get stuck, try using a hint to locate an object for you. Extra hints can be found throughout the game disguised as stars.

If you're having trouble seeing, you can make use of the magnifier located on the left side of the screen above your object list.

As you play the game, more items will appear on your list as you find others. Please note that some items noted in the walkthrough may not be on your list when you begin a level.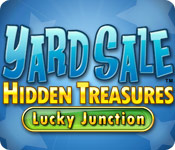 Source bigfishgames Yard Sale Hidden Treasures Lucky Junction Walkthrough