Download The Hardy Boys - The Perfect Crime
Welcome to the The Hardy Boys: The Perfect Crime Walkthrough!
Help the Hardy Boys solve a crime wave and stop the Perfect Crime! It's up to the Boys to follow the clues and crack the case!
Whether you use this document as a reference when things get difficult or as a road map to get you from beginning to end, we're pretty sure you'll find what you're looking for here.
This document begins with a handy introduction to the game before going on to the complete Hardy Boys: The Perfect Crime game walkthrough featuring annotated screenshots from actual gameplay!
We hope you find this information useful as you play your way through the game. Use the walkthrough menu below to quickly jump to whatever stage of the game you need help with.
Remember to visit the Big Fish Games Forums if you find you need more help. Have fun!
This walkthrough was created by Margie B.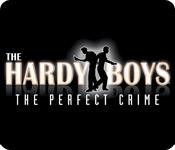 INTRODUCTION


GENERAL TIPS


There are over 30 unique scenes that span across 70+ levels. Each hidden object scene contains a list of at least 10 items to find. You can play the game in Timed or Untimed mode.

There are several puzzles in the game. You cannot skip any of the puzzles, you have to solve them, or you will get stuck in the game. Fortunately, this walkthrough has the solutions to all the puzzles in the game. The puzzle solutions should be the same for everyone.

From the Options Menu you can choose a variety of settings in the game. You can turn the timer, the music, and the sound on and off. You can choose to play in Windowed or Full Screen Mode. You can also choose to play the game in English, Spanish, or French.

When you click on several incorrect items in the scene, it will disable your cursor temporarily. You will not be able to click on any items while your cursor has the black "X" on it.

There is a lot of dialogue in the game. Reading the dialogue does not affect the outcome of the game. You can skip the dialogue by clicking on the "ESC" button on your keyboard.

Some items in the game are mislabeled. For instance, you may be asked for a watch and the hint may point to a wall clock. Save your hints in case you run across some of these items, they will help you move along in the game.

The walkthrough contains a screenshot that shows the location of all the items for every scene in the game. The items on the list should be the same for everyone, but that is not a guarantee.

The Hardy Boys - The Perfect Crime
ExclusiveWatch VideoA crime wave has gripped the Hardy Boys` hometown of Bayport! Help the Hardys solve this rash of crimes and unravel the Perfect Crime! It's up to the Boys and their detective skills to follow the clues and discover an incredibly deep plot in this Hidden Object game. Hardy Boys – The Perfect Crime will challenge you with tough minigames and detailed scenes. Can you find the mastermind behind it all and crack the case?

Over 50 levelsUnique locationsSolve The Perfect Crime!Check out our Blog Walkthrough Click images to enlarge System Requirements:
OS: Windows XP/Vista
CPU: 1.0 GHz
RAM: 256 MB
DirectX: 8.0
Hard Drive: 123 MB

Source: bigfishgames