Welcome to the Escape from Paradise 2: A Kingdom's Quest Walkthrough!
Help your hero marry their true love by becoming the chief of the tribe! Collect wood and build shelters as you attempt to survive.
Whether you use this document as a reference when things get difficult or as a road map to get you from beginning to end, we're pretty sure you'll find what you're looking for here.
This document starts with a thorough introduction to the game before going in to the complete Escape from Paradise 2: A Kingdom's Quest game walkthrough organized by island quadrants and featuring annotated screenshots from actual gameplay!
We hope you find this information useful as you play your way through the game. Use the walkthrough menu below to quickly jump to whatever stage of the game you need help with.
This walkthrough was created by Margie B.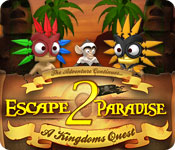 WALKTHROUGH MENU

1. ISLAND: PART 1
2. ISLAND: PART 2
3. ISLAND: PART 3
4. ISLAND: PART 4

Download Escape From Paradise 2: A Kingdom's Quest