Download Samantha Swift and the Golden Touch
Welcome to the Samantha Swift and the Golden Touch Game Walkthrough!
Samantha Swift is back with a new adventure and needs your help! Come to our fearless adventurer's aid on her journey to unravel the mysteries of King Midas' Golden Touch.
Whether you use this document as a reference when things get difficult or as a road map to get you from beginning to end, we're pretty sure you'll find what you're looking for here.
This document starts with general game tips then launches into the complete Samantha Swift and the Golden Touch game walkthrough organized by stage and featuring annotated screenshots from actual game play!
We hope you find this information useful as you play your way through the game. Use the walkthrough menu below to quickly jump to whatever stage of the game you need help with.
GENERAL TIPS
"Samantha Swift and the Golden Touch" has 7 stages. Each stage has several interactive hidden object scenes to solve and some mini-games in between all levels.

This game does not have a timer; you can take your time and solve the puzzles at your leisure.

You will not be able to access another room until you're completely done with the room you're currently in. Make sure that all the puzzles have been solved in order to exit a room.

When you see a green magnifying glass appear on the scene, it means that you need to investigate that area at some point before you leave the scene. Those areas contain puzzles that need solving.

You will not always be able to investigate a scene with a magnifying glass right away. At times you may have to wait until you perform other actions before you can access them.

The walkthrough will show you the location of all the lightning bolts in the scene. The locations may be random, so they may not be in the same place for everyone.

If you decide to replay the game, you will be asked to find a new set of items. Some of the items in blue may not be in the same place for everyone.

Several of the items you pick up will need to be stored in the tool area that is in the lower right side of the scene. You will use these items in the same room you're in or in another room. The tools will help you unlock the items that are listed in blue.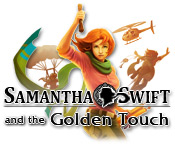 Source BİGFİSHGAMES Samantha Swift and the Golden Touch Walkthrough