Download Wonderburg Strategy Guide
Welcome to Wonderburg Game Walkthrough!
Giants and Pirates and Dragons, Oh my! Help Alisa the witch and Rudi the dwarf, rebuild Wonderburg!
Whether you use this document as a reference when things get difficult or as a roadmap to get you from beginning to end, we're pretty sure you'll find what you're looking for here.
This document starts with general game tips then launches into the complete Wonderburg game walkthrough complete with annotated screenshots from actual game play!
We hope you find this information useful as you play your way through the game. Use the menu below to quickly jump to whatever part of the game you need help with.
General Tips & Information
Gameplay Modes – There are two modes of gameplay.

Relaxed Mode – This mode allows you to take your time. You will earn the Gold medal upon completion of the goals for each level.

Timed Mode – For more of a challenge, play the timed mode. You will earn the Gold medal upon completion of the goals in a level when the timer is in the green zone, and the Silver medal when the time is in the yellow or red zone. If you run out of time, you will need to replay the level. (Note – To unlock the bonus levels, you must have earned Gold medals for all levels in the episode set.)

Map – Completed levels will show the color badge earned for that level. You can play any level at any time. By clicking on the chapter tabs on the right, you can replay any part of the story.

Bonus Levels – All bonus levels are untimed.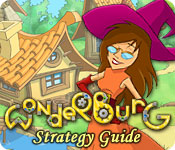 Wonderburg Walkthrough