Download Treasure Seekers: The Enchanted Canvases
Help Nelly find and save her brother from a mysterious Romanian castle! Dive into the castle's magical pictures and discover the secrets of the Philosophers' Stone. Use your Hidden Object skills in Treasure Seekers: The Enchanted Canvases to break the spells on the castle and track down Tom. Find the wicked person responsible for imprisoning him and take home the ancient and priceless treasure!

Welcome to the Treasure Seekers: The Enchanted Canvases Walkthrough!

Nelly is back and she's quite grown-up! Aid her in her quest to find her brother Tom and investigate the Enchanted Canvases of Totenkraft Castle.

Whether you use this document as a reference when things get difficult or as a road map to get you from beginning to end, we're pretty sure you'll find what you're looking for here.

This document begins with general game tips before getting into the complete Treasure Seekers: The Enchanted Canvases game walkthrough featuring annotated screenshots from actual gameplay
We hope you find this information useful as you play your way through the game. Use the walkthrough menu below to quickly jump to whatever stage of the game you need help with.

Remember to visit the Big Fish Games Forums if you find you need more help. Have fun!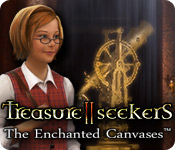 This walkthrough was created by prpldva.


WALKTHROUGH MENU
GENERAL TIPS
THE MAGIC TOWER
THE SEA COAST
THE CURSED SHIP
THE ANCIENT CASTLE
THE EERIE CASTLE
THE STRANGE HALL


General Tips & Information
There are two modes of gameplay. In the "Relaxed" mode, both the "Hint" meter and the "Skip puzzle meter quickly charge, and less time is required for illuminating the next collectible item. The "Challenge" mode has a very slow charge on the "Hint" button and "Skip Puzzle" meter, and almost no other hints. You must select your desired mode when creating your profile.

The canvases screen is where you begin your journey. Click on the glowing canvas to enter the level. As you progress, completed canvases will be grayed. You can select these to replay the introduction scenes. The small painting on the chair will bring you back to the main menu.

Treasure Seekers: The Enchanted Canvases

Treasure Seekers: Visions of Gold


Treasure Seekers: The Enchanted Canvases Walkthrough