Welcome to the Dream Sleuth Walkthrough!
Download Dream Sleuth
Follow the crystal clear dreams you've been having about a missing little girl! Help our hero, Catherine, take matters into her own hands and become a one-of-a-kind Dream Sleuth.
Whether you use this document as a reference when things get difficult or as a road map to get you from beginning to end, we're pretty sure you'll find what you're looking for here.
This document includes general game tips as well as the complete Dream Sleuth game walkthrough featuring annotated screenshots from actual gameplay!
We hope you find this information useful as you play your way through the game. Use the walkthrough menu below to quickly jump to whatever stage of the game you need help with.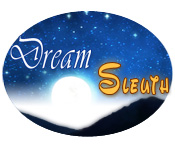 Follow the crystal clear dreams you`ve been having about a missing little girl! Help our hero, Catherine, take matters into her own hands and become a one-of-a-kind Dream Sleuth. Investigate the little girl`s disappearance, using your dreams as a guide, to help find and save her in this mystical Hidden Object game. Can you sift through the facts and rumors and interpret all the clues in your dreams? Warning: Dream Sleuth may contain some strong language

* Check out our Blog Walkthrough
* Perplexing puzzles
* Find the little girl!


This walkthrough was created by Margie B.

WALKTHROUGH MENU

1. General Tips
2. Chapter 1: Sunday Night
3. Chapter 2: Monday Morning
4. Chapter 3: Monday Afternoon
5. Chapter 4: Monday Night
6. Chapter 5: Tuesday Morning
7. Chapter 6: Tuesday Afternoon
8. Chapter 7: Tuesday Night
9. Chapter 8: Wednesday Morning
10. Chapter 9: Wednesday Evening
11. Chapter 10: Wednesday Night
12. Chapter 11: Thursday Morning
13. Chapter 12: Thursday Afternoon
14. Chapter 13: Thursday Night
15. Chapter 14: Friday Morning
16. Chapter 15: Friday Night
17. Chapter 16: Saturday Morning
18. Chapter 17: Saturday Afternoon
19. Chapter 18: Saturday Evening


General Tips

* Dream Sleuth consists of 18 chapters. Each chapter has between 3 to 6 levels all varying in length.

* There are unlimited hints in the game but you have to wait for it to recharge before you can use it again.

* You cannot skip any of the puzzles or mini-games.

* To use a hint, click on the question mark that is located in the top right side of the scene.

* The hints can be used in some of the mini-games but not in all of them.

* Make sure that you click on everything in the scene. A lot of times objects will not be visible until you open doors, cabinets, windows etc.

* Some sparkly objects will move aside when you click on them. Sometimes they move because they have something either underneath them or behind them.

* Other times they move and you will see nothing there but that doesn't mean that in another level there might not be something else there.

FULL DREAM SLEUTH WALKTHROUGH